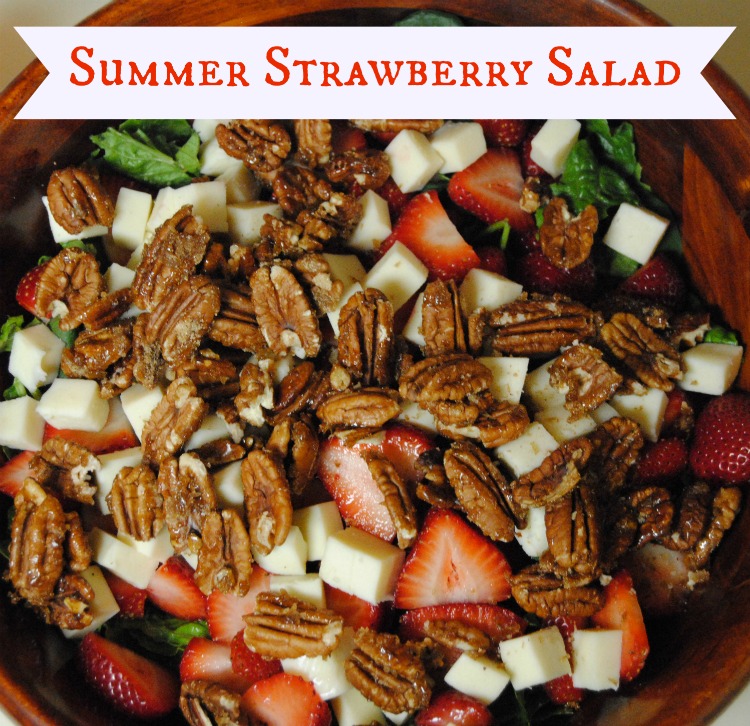 It is worth noting up front that I am not a food blogger. Nor am I chef. I am, in fact a novelist (you can read more about my books here). That said, I'm also a darn good cook. And in an effort to organize and preserve my recipes I've decided to record them here. I'll begin with a family favorite, Summer Strawberry Salad, simply because I made it for The Texan (my husband) and The Wild Rumpus (our four sons) tonight. Not a lettuce leaf was left–always a good sign in a house with five men.
Summer Strawberry Salad:

1 head romaine lettuce, torn into small pieces (you can also ad whatever greens you have lying around–I included two cups of spinach tonight because it was about to go bad)

2 cups sliced strawberries

1 cub cubed mozzarella

1 cup candied pecans

Dressing:

1/2 cup olive oil

1/4 red wine vinegar

a little less than 1/3 cup sugar

1/2 teaspoon salt

1/2 teaspoon pepper

1/2 teaspoon garlic powder

1/2 teaspoon paprika

**serve with grilled chicken and crusty bread
A friend told me once that we only get 18 summers with our kids. So in an effort to embrace the summer right in front of me I've decided to turn off social media until August and have fun with my family. Part of that means spending more time with my kids in the kitchen. My 13-year-old served as sous chef for this particular meal. If I've learned anything in all my years of parenting it's that boys are more than happy to help in the kitchen if you hand them a weapon. He chopped and we talked and fun was had by all.
And there you have it. No rocket science, just happy eaters. Enjoy and have a delicious summer!
Bonus: my summer reading suggestion is FLIGHT OF DREAMS (a novel about the last, doomed flight of the Hindenburg) by yours truly. The New York Times had nice things to say about it, as did People Magazine. This salad isn't featured in the book but there were a number of mouth-watering meals served on board that will spark your imagination.