Note: my dear friend Marybeth Whalen and I both wrote about our near-misses in meeting Pat Conroy recently for She Reads. Make sure you take a moment to read hers as well because it's very moving. I've posted mine below, with a short addition on how his writing has both inspired me and made me want to quit altogether–as the best writing always does.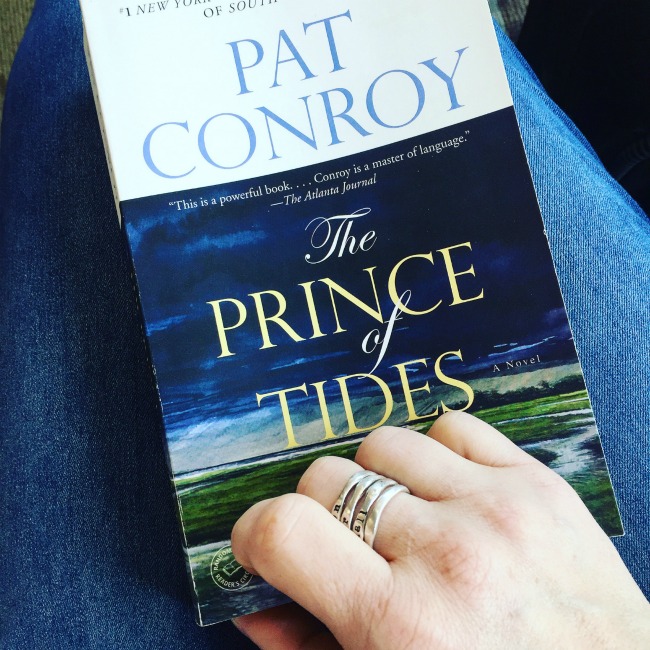 Some authors are so revered that their names are whispered at literary events like an incantation. Authors who earn an "esque" after their names. Patchett-esque. Conroy-esque. Authors whose style is so unique, so mesmerizing that others emulate them for decades. The Kings and Queens of publishing as it were.
And I will never forget the day I first saw the reigning King and Queen of publishing in the flesh for the first time, or the regret I've held since that day. In October of 2014 I was invited to attend the Southern Festival of the Book here in Nashville. My debut novel had been published a few months earlier and it was the last event I was scheduled to attend. If I'm being totally honest, I was exhausted and wilted and tired of talking about myself and my book. So as I sat in the green room, waiting for my panel, I was a little subdued. And then heard THE GASP. When I looked up, Ann Patchett and Pat Conroy stood in the door, and fifty or so authors sat open-mouthed staring at them.
Here's what you need to understand about me: if I am in awe of you, I will avoid you at all costs. I will not make eye contact or ask for your autograph. My absurd brain believes that the best way to show respect is to be the one person in a room not genuflecting. I will give you one less hand to shake. One less gushing compliment to deflect. I will leave you alone because I assume that you're tired of the lines. This is unreasonable and I have no idea why I do it but it's my default setting.
So I sat there, watching fifty authors rise to their feet and form two lines, and I settled deeper into my chair. A very flawed plan considering that within minutes I was the only person sitting. And three feet away, directly to my left, was Pat Conroy. But I dug in, determined.
The simple truth is that I froze. And it was awkward. And embarrassing. And obvious. I find myself in green rooms like that on occasion and at the time I thought I'd have another chance. I would rally and do better next time. But you know how this story ends and that second chance never came. If I could have done it all over again I would have gotten to my feet and shaken his hand. I would have told him what an honor it was to meet him. How staggered I am by his talent. I would have allowed myself to be in awe. He would have forgotten me instantly but I would have treasured the memory.
A memory that I never made because I'm an idiot.
Shake your hero's hand. Give that gushing compliment. Send the email. Write the letter. Tell them that story in the signing line about how their novel changed your life or made you want to be a writer or helped you forgive your dad. They'll understand. They do this because they know words are powerful and they want to hear that they have touched your life. Don't be like me. Be a fan girl.
So when I woke on March 4th and learned of Pat Conroy's passing I was devastated. But I instantly knew how to make amends. I decided to read through his entire body of work this year as penance for my stupidity. I already owned THE PRINCE OF TIDES but I bought each of his other books on my book tour this spring and I am currently  immersing myself in Pat Conroy's south. I've lived here for much of the last twenty years but I can honestly say I've never really understood it until now.
Thank you for that, Mr. Conroy. It has been an unexpected gift. And I'm sorry that I don't have the sense God gave a rock. I hope we get the chance to laugh about that one day on the other side of eternity.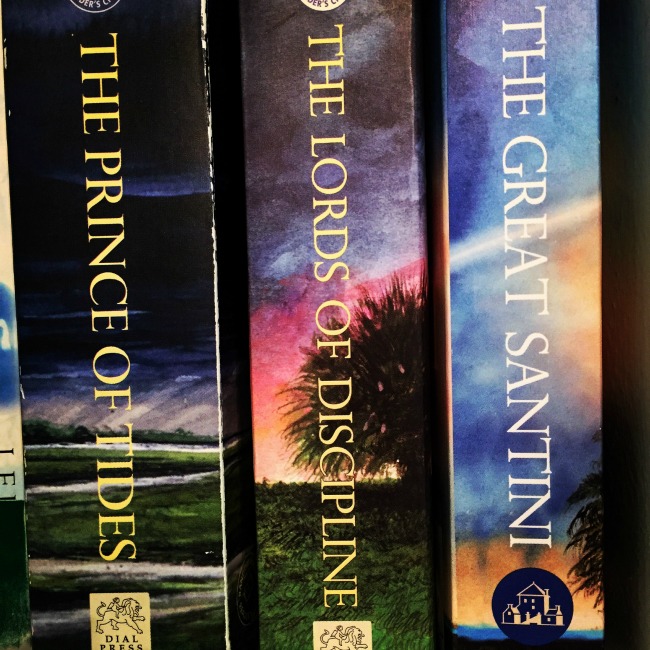 Update.
I'm several months into my Pat Conroy marathon and exposing myself to all this brilliance has had an unintended side effect: I want to quit writing entirely. This happens to me sometimes when I read someone so brilliant, so fluid, that I despair of ever making such beautiful words or such a compelling story. It happened to me when I read PEACE LIKE A RIVER. It happened to me when I read THE THIRTEENTH TALE and THE KITE RUNNER and OUTLANDER. Clearly I haven't quit yet. But I have been challenged and inspired and overwhelmed. And sometimes I think a writer needs to be perpetually adrift in those emotions to produce their best work. Or at least I do.
I'm somewhat ashamed to admit that I didn't read THE PRINCE OF TIDES until this year. It was beautiful from the first word, but when I read this passage I quite literally gasped–on a plane while sitting squished between two somber businessmen, no less. And then I read it again four times because I knew that no matter how long I live I will never write a piece of dialogue so utterly perfect:
In a mental hospital in New York I visited Savannah after her second suicide attempt. I leaned down to kiss her on both cheeks, European style. Then, staring into her exhausted eyes, I asked her the series of questions I always asked when we met after a long separation.

"What was your family life like, Savannah? I asked, pretending I was conducting an interview.

"Hiroshima," she whispered.

"And what has life been like since you left the warm, abiding bosom of your nurturing, close-knit family?"

"Nagasaki," she said, a bitter smile on her face.

"You're a poet, Savannah," I said, watching her. "Compare your family to a ship."

"The Titanic."

"Name the poem, Savannah, you wrote in honor of your family."

" 'The History of Auschwitz.' " And we both laughed

"Now here's the important question," I said, leaning down and whispering softly in her ear. "Whom do you love more than anyone in the world?"

Savannah's head lifted from the pillow and her blue eyes blazed with conviction as she said between cracked, pale lips, "I love my brother, Tom Wingo. My twin. And whom does my brother love more than anyone else in the world?"

I said, holding her hand, "I love Tom the best too."

"Don't answer wrong again, wise-ass," she said weakly.

I looked into her eyes and held her head with my hands, and with my voice breaking and tears rolling down my cheeks, I almost broke apart as I gasped, "I love my sister, the great Savannah Wingo from Colleton, South Carolina."

"Hold me tight, Tom. Hold me tight."

Such were the passwords of our lives.
So, you see now how I am ruined. A hopeless sad-sack of an author stumbling along in the footsteps of a giant. But I'm so happy to be here. So happy that I get to try and fail and try again. My job is a strange one. I take nothing and I turn it into something and then I go back again and again and try to make it lovely. Maybe my work will never be as lovely as Conroy's but I like to think he would be pleased that I am. And I like to think that if I'd shaken his hand that day he would have told me not to quit, to keep writing, because really, there's nothing else I can do. I am unemployable otherwise.