A running list of the books I'm reading and loving at this particular moment…
Liane Moriarty is hands down my favorite Women's Fiction author. She. Is. Brilliant.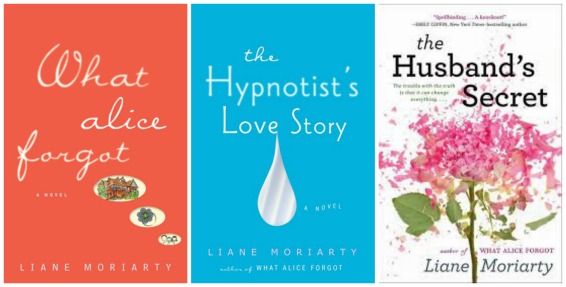 I will read ANYTHING that Liane Moriarty writes. I always feel like she's been listening to my thoughts when I read one of her novels. She understands the female psyche better than any other author I've ever read. And she can create empathy for the most unlikely characters. I first read THE HYPNOTISTS LOVE STORY in July of 2012. And I just finished THE HUSBAND'S SECRET in July of 2013. I'll be going back to pick up her first novel, WHAT ALICE FORGOT as soon as possible. Consider me a fan for life.
A new discovery: Susanna Kearsley (began in April of 2013 with THE FIREBIRD and am happily working my way through. Her books tend to be addictive, though, so I have to pace myself or I get no writing done)

Reading Susanna Kearsley's novels makes me happy. And that's no small thing. And while her books are often upwards of 500 pages, I find that I read them quickly. I love how she takes obscure people and events from history and weaves them into a larger story. I love the romantic threads that are at the center of each book. But mostly I love how she tells a story. More thoughts coming on this loosely connected series as I finish. But for now…
THE FIREBIRD: read in April of 2013 and loved.
THE WINTER SEA: read in July of 2013 and loved.
My recent obsession: Diana Gabaldon (began Thanksgiving of 2012 and still going)

I just finished Book Five in the Outlander series, The Fiery Cross. I came late to this series (decades late in this case), as is my habit. The good thing about this is that I tend to swoop in and read all the books at once. But lucky for me, I have two more books to read before the latest installment releases this December.
Why I love this series: I read all eight hundred pages of Outlander in three days last November. Gabaldon has two profound talents in my opinion. The first is that every scene, every character, every piece of dialogue in her novels serves a purpose. There is nothing superfluous. No dead weight. Every single thing matters. She may introduce a seemingly random character or plot thread at the beginning of the book only to build upon it so that it becomes the pivotal twist at the end. The second is that she takes her reader to the broken, exhausted, exhilarating point of every emotion. Whether writing a knife fight, a journey, a love scene, a homecoming, a betrayal, or even torture, she builds her scenes (none of them are short) until the page quivers with tension. Where a lesser writer would have mercy on the reader and cut the scene short, she takes it to the most brutal, unexpected, and profound conclusion. Her characters and readers suffer alongside one another. They weep together. They are redeemed together. Her devoted, almost rabid following is proof that readers invest themselves entirely in her work. When I pick up one of her novels I know that I will be shaken and grateful at the end.